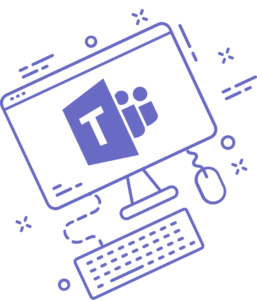 What is Microsoft Teams?
Microsoft Teams provides a collaborative, cloud-based workspace where Office 365 users can send messages, share files, and more. A team can be created for a class, a department, a project, or for anything you like! Each team has access to channels, which are places where people can share messages, files, and more. Teams can be public (open to everyone) or private (accessible to invited users only). You can be part of as many teams as you like, and you can join or leave teams as needed.
Microsoft Teams also provides additional communication tools, such as chat, meetings, file sharing, and more.
At its most basic level, Teams is a messaging tool that enables text communications between users, whether they are in the same office or work remotely.
It supports group chat rooms with threaded conversations, as well as private messages between individuals. When necessary, users can jump from instant messaging to a video call at the push of a button.
However, Teams is more than a communications tool: it also combines strong content collaboration features, thanks to integration with Microsoft's software portfolio. OneDrive documents can be accessed and edited without leaving the app, for example. Teams is one of several collaboration applications in Microsoft's portfolio, with Yammer, Outlook and SharePoint all providing some overlapping functionality.
Connect instantly
Reduce email clutter
Take conversations anywhere
Instant message one-to-one or with a group, hop on a video call, or share a screen for fast-paced decision making.
Move noisy replies and acknowledgments out of email threads and into quick chats where they belong.
Work together as a team from anywhere and with more flexibility.
For schools and colleges, learning is made easy – Students, teachers, and staff can seamlessly work together, create content, and share resources all from a single, easy-to-learn and simple to use platform.
What can you do with Microsoft Teams for Education?
Collaborate – Co-author files and share resources with built-in Office 365 apps.
Communicate – Stay connected with persistent chat, channel conversations, and meetings.
Personalise – Personalise Teams with your favorite education and organization tools.
Assignments – Create meaningful assignments, provide transparent guidance, and share rich feedback.
Gradebook – Organize and track each class' assignments and grades directly from a class team.
Notebooks – Create and store resources with OneNote Classroom Notebook in Teams.
Use Third-Party Apps – Customise your experience with Flipgrid, Turnitin, MakeCode, and other learning tools.
Microsoft Teams for everyone, anywhere
Microsoft Teams is the digital hub that schools and businesses have been waiting for. Contact us to find out more.